On the strength of its experience, Shivam has always sought to produce high quality equipments complying with national and international standards,But exactly Shivam mean by Quality.
The ISO Standards 9001 defines Quality as Degree to which a set of inherent characteristics fulfils requirement. Although the final inspection in some respects a statement of failure, it is nevertheless a vital stage in equipment production. The quality is also a willingness of all staff, from Managing Director to worker to satisfy the customer. We have implemented the quality process in our production plant.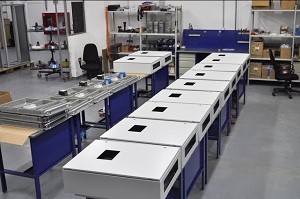 It is our policy to conduct following routine tests:
Inspection of assembly
Dielectric test and or measurement of Insulation resistance
Checking the electrical circuit of protective circuit.

The Quality inspection therefore contributes:

Quality inspection functions:
Perform the inspection with respect to:

The production file and customer requirements documents
Our inspection schedule and guidelines
Applicable standards

Carry out acceptance in the presence of the customer
Ensure the sharing the information to the production staff, training, corrective and preventive action
Ensuring periodically calibration of Test & Measuring Equipments / Instruments
Quality Inspection Responsibility:
Quality inspection department is directly reporting to the top management
Quality Engineer can delay or postpone the delivery of equipment ask for reworking to meet the conformity.
Quality Engineer is responsible for the safety of the people entering the testing zone.

Our Quality Engineers are:
Highly qualified having vast experience and knowledge of low voltage switch gear products manufactured by national and international OEM.
Competent to work on low voltage live system,
Knowledge of hazards of electric current
Basic notion of first aid.
Necessary documents
Our quality engineers equipped with updated production files, forms, checklist, calibrated equipments /instruments etc.